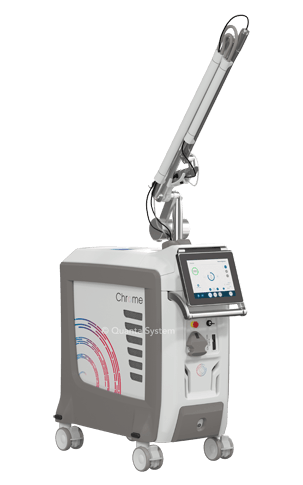 Quanta Chrome Lase Station – Reinventing the Q-Switched laser technology through innovation and flexibility
More than 50 different kinds of treatments with one device including
Epidermal Pigmented Lesions
Dermal Pigmented Lesions
Multicolour Tattoo removal
Vascular Lesions
Skin Rejuvenation
Ablative and Non-Ablative Skin Resurfacing
Skin Peeling
Nail Fungal Infection
Skin Tightening
Acne Scar revision and Inflammatory Acne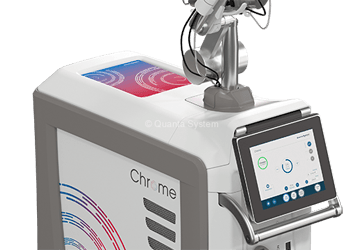 Chrome is the new
Quanta System
 expandable Laser Platform based on an innovative Q-Switched Nd:Yag (1064nm & 532nm) technology that allows Repetition Rates up to 20 Hz. 
Upgradeable with up to 7 modules the device represents a real revolution in the treatment of Skin conditions. The operator can perform more than 50 different types of treatments thanks to its modularity and its Skin Apps.
Chrome Skin Apps are a series of predefined settings that use different technologies to achieve the ultimate result for your patient.
The Skin Apps allows patients to easily understand the treatment packages and allows even operators with no experience with lasers to easily perform the treatments.
FASTEST Q-Switched Nd:Yag (1064nm & 532nm) up to 20 Hz
TWO Emission modes in the basic configuration (Q-Switched and Opti-Pulse)
SEVEN additional optional modules to expand your treatments range
OPTIZOOM Round Flat Top Handpiece from 2mm up to 8mm (0.25mm increments)
NO DYE HANDPIECE Consumables for Excellent ROI
NATURAPEEL Handpiece for carbon peel treatments – Optional
ROSSO Handpiece for Purpura Free Pigmented Lesions and Tattoo Removal – Optional
DEEP FRACTIONAL Handpiece for Scars, Wrinkles and Skin Tightening – Optional
HIGH COVERAGE FRACTIONAL Handpiece for Pigmented Lesions on sensible skins – Optional
PULSED 1064nm MODULE for vascular lesions, skin rejuvenation and Nail Fungus – Optional
TWAIN IPL Handpiece for photo-epilation and Active Acne – Optional
TWAIN 2940 for fully ablative and fractional ablative treatments – Optional