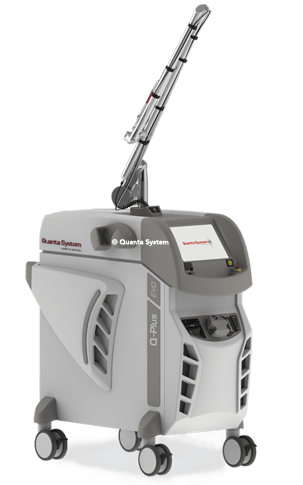 World's Most used Multi-Application Q-Switched Laser Tattoo Removal and Pigmented Lesions Removal Platform
The Quanta Q-Plus Series – EVO Family is a laser platform available in 6 different configurations for the maximum versatility, to better adapt to every user's needs. In each system it is possible to insert up to two different laser sources: pure Q-Switched or hybrid Q-Switched/Pulsed.
The Q-Plus Series is the ideal solution to perform a great range of treatments including the removal of benign pigmented lesions, tattoo removal, skin resurfacing, vascular lesions and hair removal treatments.
The Quanta Q-Plus EVO series is the ultimate platform laser with ultimate choice. No other laser in world can offer the versatility, power or specifications that the Quanta Q-Plus series can offer.
The starting point of any laser in the Quanta Q-Plus EVO series is a powerful Q-switch active laser that ensures not only a great versatility but also great power. Many systems on the market today advertise a passive Q-switch – which cannot deliver a short enough pulse to make tattoo-removal and pigment-removal easy.
In addition, the Quanta Q-Plus EVO series does not rely on Dye hand-pieces; which are expensive to run and do not offer sufficient power to treat multi-coloured tattoo's effectively
The Q-Plus EVO series has exclusive combinations that make this system truly unique with applications such as
Multi-Coloured Tattoo Removal
Benign Pigmented Lesions Removal
Facial Skin Treatments
Permanent Hair Reduction
Vascular Lesion RemovalScars
Inflammatory Acne
Dermatological foot conditions (skin and nail) treatment plus, much much more
Technology
Key Features
Accessories
System Spec
Technology
Q switch mode and Optipulse modes
When using the active Q-switch of the Quanta Q-Plus EVO series, very short pulses (6ns for Nd:YAG 1064/532nm and 30ns for Ruby laser 694nm) are delivered with very high peak powers.
This combination of energy delivery to the tissue enables a highly efficient photo-acoustic effect, of either the pigmented lesion or the tattoo. This short-pulse, high-energy output also reduces the thermal interaction of the tissue. The bigger the thermal interaction, the more loss of energy making the treatment less efficient and potentially causing more damage to the skin. The unwanted tattoo or pigments that have been hit by the high-energy pulse are fragmented and then removed by the body's own natural defence mechanism, a process called phagocytosis.
The optipulse mode of the Quanta Q-Plus EVO series increases the energy of the emission by 50% and in doing so reduces the optical pick power by 20%. This is used to reduce the transitory post-treatment purpura and risk of hyper-pigmentation, using the 532nm laser.
Flat beam OPTIBEAM II® technology
The laser beam that is generated by any Q-switch laser needs to be a as close to a flat beam as possible.
The Q-Plus EVO series provides an homogeneous beam which reduces the healing time and makes side effects less likely. Quanta Q-Plus EVO series lasers deliver a flat-top beam profile which many of the cheaper lasers and actually some of the more expensive laser (especially passive) cannot deliver. If the laser is not delivering such a homogeneous energy cross-section, then the skin can get hot points which in turn can lead to burns.
Quanta achieves their flat top beam profile by using OPTIBEAM II® handpieces with the ability to deliver high peak powers over a homogeneous output for all spot sizes.
The OptiBeam II handpieces can generate different flat-top spot shapes at various sizes.
Square, flat-top hand-pieces – ideal for tattoo removal
Round, holographic hand-pieces – designed to be adjusted to pigmented lesions' shapes
Fractional hand-piece – perfect for skin resurfacing and rejuvenation with very short recovery time
Key Features
Accessories
System Spec